⊙ Casita De Las Olas ⊙
August 13, 2016 @ 6:00 pm

-

10:00 pm

FREE BUT BRING $$$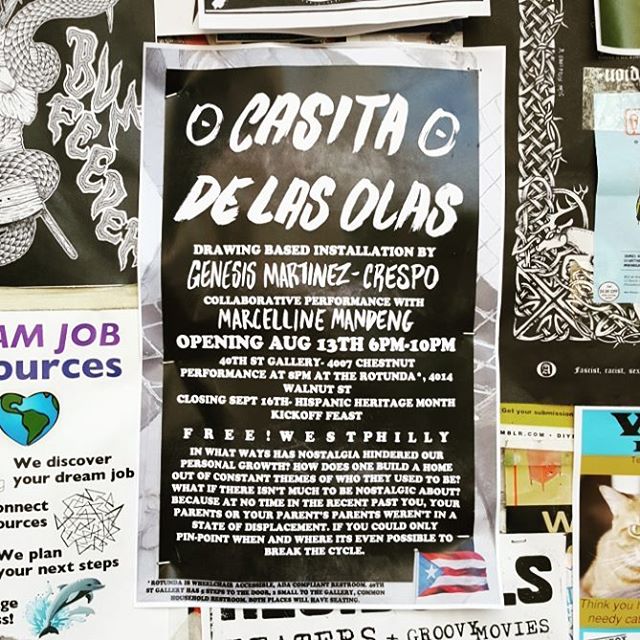 A VERY FINE EVENT FROM OUR NEIGHBOR, GENESIS MARTINEZ-CRESPO Y MARCELLINE MANDEG
IN WHAT WAYS HAS NOSTALGIA HINDERED OUR PERSONAL GROWTH? HOW DOES ONE BUILD A HOME OUT OF CONSTANT THEMES OF WHO THEY USED TO BE? WHAT IF THERE ISN'T MUCH TO BE NOSTALGIC ABOUT? BECAUSE AT NO TIME IN THE RECENT PAST YOU, YOUR PARENTS OR YOUR PARENT'S PARENTS WEREN'T IN A STATE OF DISPLACEMENT. IF YOU COULD ONLY PIN-POINT WHEN AND WHERE ITS EVEN POSSIBLE TO BREAK THE CYCLE.

⊙ Casita De Las Olas ⊙

1) DRAWING BASED INSTALLATION AT 40TH STREET AIR GALLERY.
+
2) AN ACCOMPANYING COLLABORATIVE PERFORMANCE WITH MARCELLINE MANDENG (http://mandengarchives.tk/) AT THE ROTUNDA AT 8PM

GALLERY DATES ⊙ ALSO OPEN TO APPOINTMENTS (GENCRESPO@GMAIL.COM)

WEDNESDAY AUGUST 17TH 6-9PM
FRIDAY AUGUST 26TH 4-7PM
FIRST FRIDAY SEPT 2ND 6PM-9PM
SATURDAY SEPT 10TH 2PM-5PM

CLOSING SEPT 16TH -HISPANIC HERITAGE MONTH KICKOFF FEAST

ACCESSIBILITY INFO: THE ROTUNDA IS WHEELCHAIR ACCESSIBLE ALONG WITH AN ADA COMPLIANT RESTROOM. 40TH STREET HAS 5 STAIRS TO THE ENTRANCE AND 2 SMALL STEPS TO THE GALLERY, HAS A COMMON HOUSEHOLD-LIKE RESTROOM. BOTH VENUES HAVE SEATING.

SEPTA: CLOSEST TO 40TH ST MARKET-FRANKFORD LINE STOP. 40 BUS, 30 BUS AND A FEW BLOCKS FROM THE 40TH ST PORTAL.