Emergent Strategies: Spec Fic & Radical Organizing with Adrienne Maree Brown
December 8, 2013 @ 1:30 pm

-

3:30 pm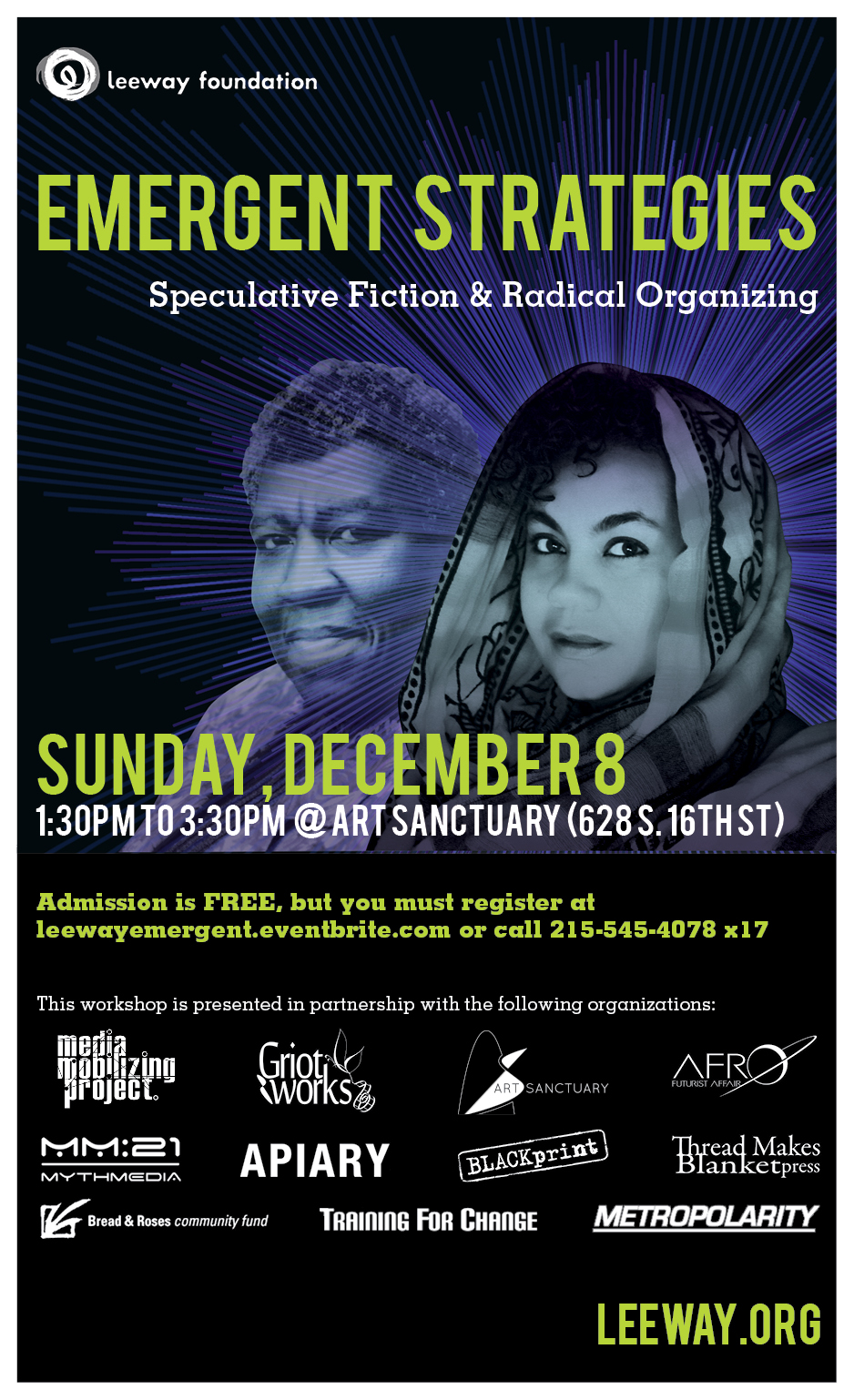 Join Leeway Foundation on December 8 to welcome writer and cultural organizer Adrienne Maree Brown for a lively conversation inspired by the work of visionary, post-apocalyptic, science-fiction author Octavia Butler. This discussion will explore the visionary qualities of science/speculative fiction with radical community organizing practice using Butler's work.
Butler's writing in The Parable series and other works instigates and provokes new thinking about how we can bring into being the kind of society that we want and expands what we might imagine. Through her protagonists, Butler illustrated adaptive, intuitive, shared leadership in practice. This recurrent theme, dubbed "Emergent Strategy," will be a key focus of the afternoon's discussion.
The event is free, but you must RSVP at http://leewayemergent.eventbrite.com/
About Adrienne
Adrienne is a 2013 Kresge Literary Arts Fellow writing science fiction in Detroit. She is co-editor, with poet/activist Walidah Imarisha, of the forthcoming anthology Octavia's Brood: Science Fiction Stories from Social Justice Movements She has helped to launch the Octavia Butler and Emergent Strategy Reading Network for people interested in reading Octavia's work from a political and strategic framework, and is building with the Octavia Butler Legacy Network on other ways of extending Butler's work.
This workshop is presented in partnership with the following organizations: The AfroFuturist Affair, Apiary Magazine, ART SANCTUARY, Blackprint, Bread & Roses Community Fund, GriotWorks, Media Mobilizing Project, Metropolarity, Myth Media Studios, Thread Makes Blanket, and Training for Change.