FLY LIFE: HOUSE MUSIC HOUSE PARTY
August 31, 2013 @ 10:00 pm
$3 – $5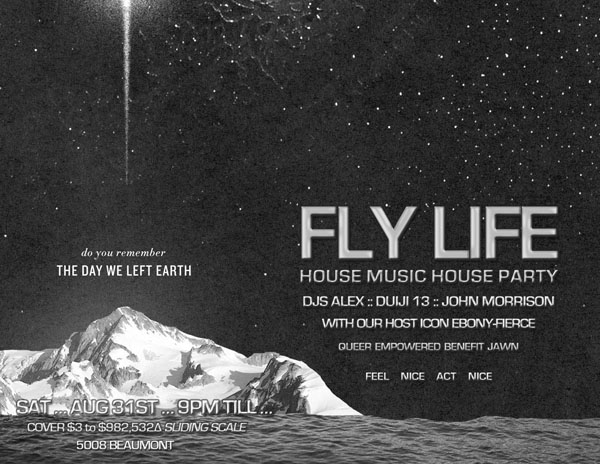 Studio 45 and Element 33 collaborate to bring you the body music, the soul movement, the electrolysis of the universe. IT'S HOUSE MUSIC YA'LL! ALL NIGHT funk, disco, house, electro and funky tech beats from deep to disco to tribal to garage to stepz… Can you feel it? It's the return of FLY LIFE.
with our DJs
John Morrison :: The cosmic spacecowboy
DuiJi Mshinda :: 13 Deep house connoisseur
Alex Smith :: the imperial beat jacker
and our host
Icon Ebony-Fierce
…bringing together all the sounds that make up HOUSE…
THIS IS A PARTY! Let's leave pretension and attitude at the door, get your back up off the wall and DANCE!
This is a queer empowered DISCO JAMMY JAM! Bros fall back! Respect the lgbtq space and let's just dance, cool?
cover
$3-$9823423,54354332∆ sliding scale
In collaboration with METROPOLARITY