LIMINAL/TEMPORAL YARD SALE
May 25, 2014 @ 11:00 am

-

4:00 pm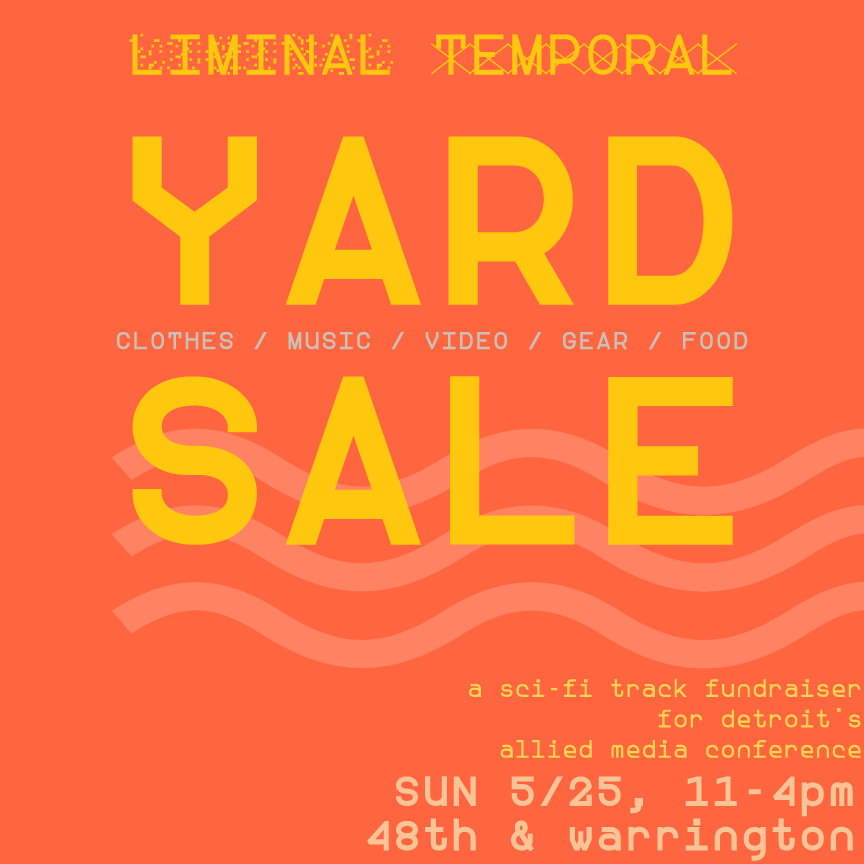 ANOTHER FUNDRAISER** FOR THE Liberation Technologies SCI-FI TRACK OF THE ALLIED MEDIA CONFERENCE, this June 19~22 in Detroit!
+~+~+~+~+~+~+~+~+~+~+~+~+~+~+~+~+
♡ WEARABLE ITEMS
☆ REFRESHING TEA DRINKS
♡ ONIGIRI RICE TRIANGLES
☆ METROPOLARITY SCI-FI ZINES 4 SALE
♡ OLD WEIRD STUFF (MUSIC/MOVIES/ELECTRONICS/WHAT)
☆ JEWELRY & DECORRR
♡ WELLNESS POTIONS by Stitch Prism x Honey & Blackbone Tarot
☆ AND OTHER ITEMS FOR REFRESHING/REORIENTING UR GENDER/MIND/MATTER STATE
+~+~+~+~+~+~+~+~+~+~+~+~+~+~+~+~+
☆ HAVE STUFF YOU WANT TO DONATE TO THE SALE? ☆
MESSAGE US AND WE CAN ARRANGE PICK-UP/DROP-OFF!
+~+~+~+~+~+~+~+~+~+~+~+~+~+~+~+~+
**What are we fundraising for exactly? As organizers for the sci-fi track of the AMC, it's our responsibility to do as much fundraising as possible in order to provide financial assistance for presenters' travel costs, room and board, and other expenses that they are unable to cover themselves. Providing financial assistance is key to bringing many of the amazing workshop & panel presenters that will make up the 9 sessions of our sci-fi oriented media empowerment track of programming at the AMC. This chumpie is trying to get transformative!
The Allied Media Conference is "a collaborative laboratory of media-based organizing strategies for transforming our world, held every summer in Detroit." It's organized entirely by a decentralized network of volunteers.
Want more info?? https://amc.alliedmedia.org/about/amc-mission