NOWTOPIA
August 28, 2015 @ 7:00 pm

-

10:00 pm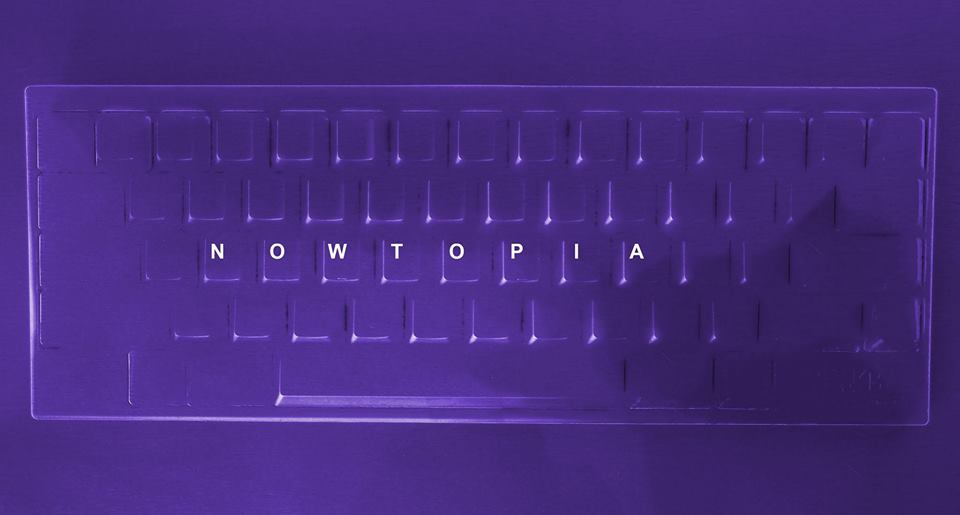 |̿ \͇| |͇̿ ͇̿ ͇̿| \͇ Λ ͇/ ̿ ̿|̿ ̿ |͇̿ ͇̿ ͇̿| |̶̿ ̶̿ ̶̿ ̶̿' | |̶̿ ̶̿ ̶̿ ̶̿|
Nowtopia is a place, an existence, a conciousness. Nowtopia is a constantly moving, intricate journey, a swim through nebula, the wet starstuff of human birth.
While Nowtopia doesn't have a corporeal place to call home, it exists nonetheless as tachyon, flitting through our collective conscious as a memory, a movement or as hope. On August 28, we are presenting Nowtopia as an orbital space-station, a vector and nexus point where star-mapping, healing, and flux converge to create warps to other realms.
Organized by Chrome City denizens, conceived at the orbital worshipping point Laser Life, and realized through collective means via Metropolarity, Nowtopia is the blueprint vision visor, the conduit, the space place where time exists interdimensionally, never moving — artists exists like super-heroes as vibratory manifestations, as stories.
Each artist will set up in a different space, performing in a flowing "mix", trans-imposing visual and kinetic imagery in accompaniment to their sounds. Dancers and movement mages will be present throughout the space. The idea is to provide a temporary autonomous zone, through art and music, with a nod towards super-hero bases, sci-fi academies and temporally autonomous non-localities.
╔═.♥. ════════════════════════╗
█▀▄▀█ █▀▀ ▀▀█▀▀ █▀▀█ █▀▀█ █▀▀█ ░░
█░▀░█ █▀▀ ░░█░░ █▄▄▀ █░░█ █░░█ ▀▀
▀░░░▀ ▀▀▀ ░░▀░░ ▀░▀▀ ▀▀▀▀ █▀▀▀ ░░
█▀▀█ █░░ █▀▀█ █▀▀█ ░▀░ ▀▀█▀▀ █░░█
█░░█ █░░ █▄▄█ █▄▄▀ ▀█▀ ░░█░░ █▄▄█
▀▀▀▀ ▀▀▀ ▀░░▀ ▀░▀▀ ▀▀▀ ░░▀░░ ▄▄▄█
╚══════.♥. ═══════════════════╝
FEATURING READINGS BY METROPOLARITY
Ras Mashramani
Rasheedah Phillips
Alex Smith
Magus Eighteen
(effaced from facebook, find em here:
https://instagram.com/cyborgmemoirs/)
╔═.♥. ══════════════════════╗
█▀▄▀█ █▀▀█ █▀▀█ ▀▀█▀▀ ░▀░ █▀▀▄
█░▀░█ █▄▄█ █▄▄▀ ░░█░░ ▀█▀ █░░█
▀░░░▀ ▀░░▀ ▀░▀▀ ░░▀░░ ▀▀▀ ▀░░▀
█▀▀█ █▀▀ █▀▀ ▀█░█▀ █▀▀ █▀▀ █ █ █
█░░█ █▀▀ █▀▀ ░█▄█░ █▀▀ ▀▀█ ▀ ▀ ▀
█▀▀▀ ▀▀▀ ▀▀▀ ░░▀░░ ▀▀▀ ▀▀▀ ▄ ▄ ▄
╚══════.♥. ═════════════════╝
VISUALS BY MARTIN PEEVES
╔═.♥. ══════════════════╗
█▀▀ █▀▀█ █░░█ █▀▀▄ ▀▀█▀▀ ░░
█░░ █░░█ █░░█ █░░█ ░░█░░ ▀▀
▀▀▀ ▀▀▀▀ ░▀▀▀ ▀░░▀ ░░▀░░ ░░
█▀▀ █▀▀█ █▀▀ █▀▀ ░▀░ ▀▀█▀▀
█▀▀ █▄▄▀ █▀▀ █▀▀ ▀█▀ ░░█░░
▀▀▀ ▀░▀▀ ▀░░ ▀▀▀ ▀▀▀ ░░▀░░
╚══════.♥. ═════════════╝
SOUNDSCAPES BY COUNTERFEIT
|̿ \͇| |͇̿ ͇̿ ͇̿| \͇ Λ ͇/ ̿ ̿|̿ ̿ |͇̿ ͇̿ ͇̿| |̶̿ ̶̿ ̶̿ ̶̿' | |̶̿ ̶̿ ̶̿ ̶̿|c