SCREAMING QUEENS + EX. BY V. + ALEX SMITH + VOYAGER + HEATHER HOLEPUNCHER
October 4, 2013 @ 8:00 pm
$5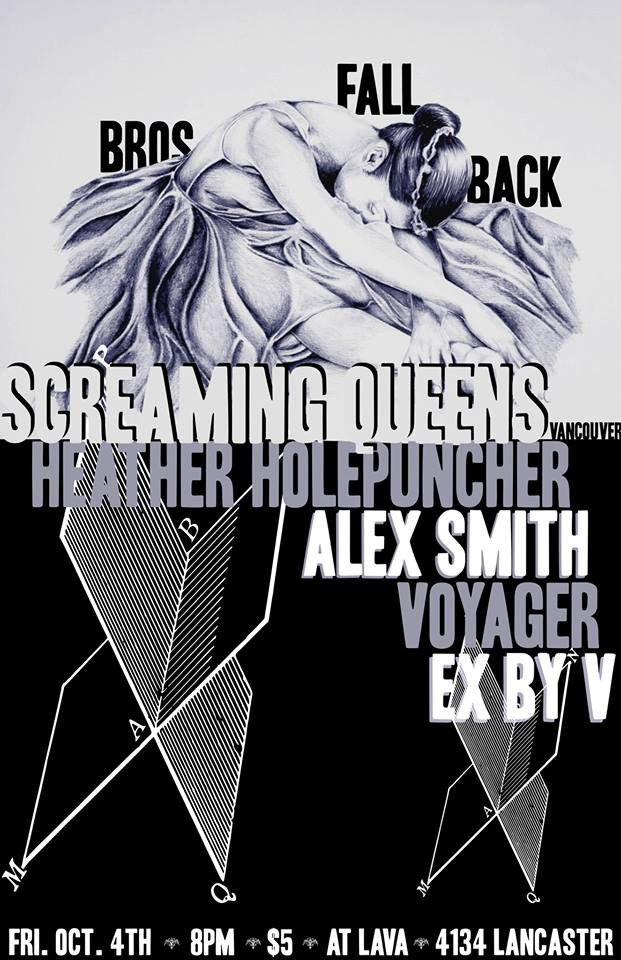 Screaming Queens (Vancouver)

ex. by v.

Alex Smith
Smith is a queer black activist, poet, dj, actor, musician, afro punk/afro-futurist chronicler of the naughty universe. Smith's work speaks to the edge, to the post-fringe dystopia slowly creeping upon us. Too cantankerous and flamboyant for the Saul Williams wanna-be/def poetry set, too tribal for academia, Smith paints viral inscriptions for an audience of armed pixie insurrectionists. He is the founder and curator of the queer-empowered Laser Life sci-fi reading series. Alex's short story collection, "Gang Stalk Oprah", with its lines hashed like an SAT-word injected SEPTA bus graffiti, will kidnap you, convert you, shoot you in the leg and then set you free.
Voyager
http://sssybtch.wordpress.com/
Heather Holepuncher
flyer design: negatecity.tumblr.com
all ages
5$ (no one turned away for lack of funds)
see you soon!!