STATE OF EMERGENCY: Black Women Lives
May 3, 2015 @ 1:00 am

-

4:00 pm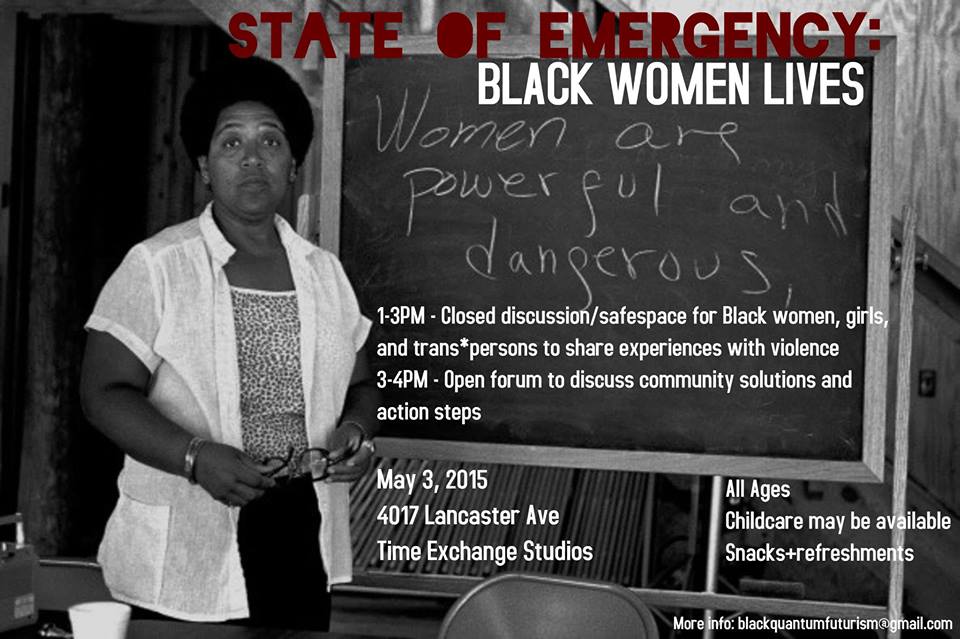 Black women and girls are out here dying every moment, from state violence, domestic violence, street violence, and self-inflicted violence. We absolutely must discuss and brainstorm solutions for saving our women and girls NOW.
1-3pm – Closed discussion and safespace for Black women and Black trans*persons to share their personal struggles and experiences with violence and suicide, survival stories, and solutions. POC trans*persons in need of safespace are welcome.
3-4pm – Open discussion and forum for ALL to discuss community solutions and action steps for supporting Black women and girls and protecting them against violence. Discussion will be lightly moderated by BQF Collective to maintain the focus.
** light refreshments and snacks
** optional potluck
** all ages [sensitive topics discussed]
** free
** Childcare may be available from Philadelphia Child Care Coalition
– Safe space is a term for an area or forum where either a marginalised group are not supposed to face standard mainstream stereotypes and marginalisation, or in which a shared political or social viewpoint is required to participate in the space. (via Geek Feminism)
There will be information and resources available for survivors of intimate partner and sexual violence. If you have resources and information to contribute for survivors of suicide and depression, or street harassment, please contact us at blackquantumfuturism@gmail.com