The AfroFuturist Affair 3rd Annual Costume & Charity Ball
November 9, 2013 @ 8:00 pm
$15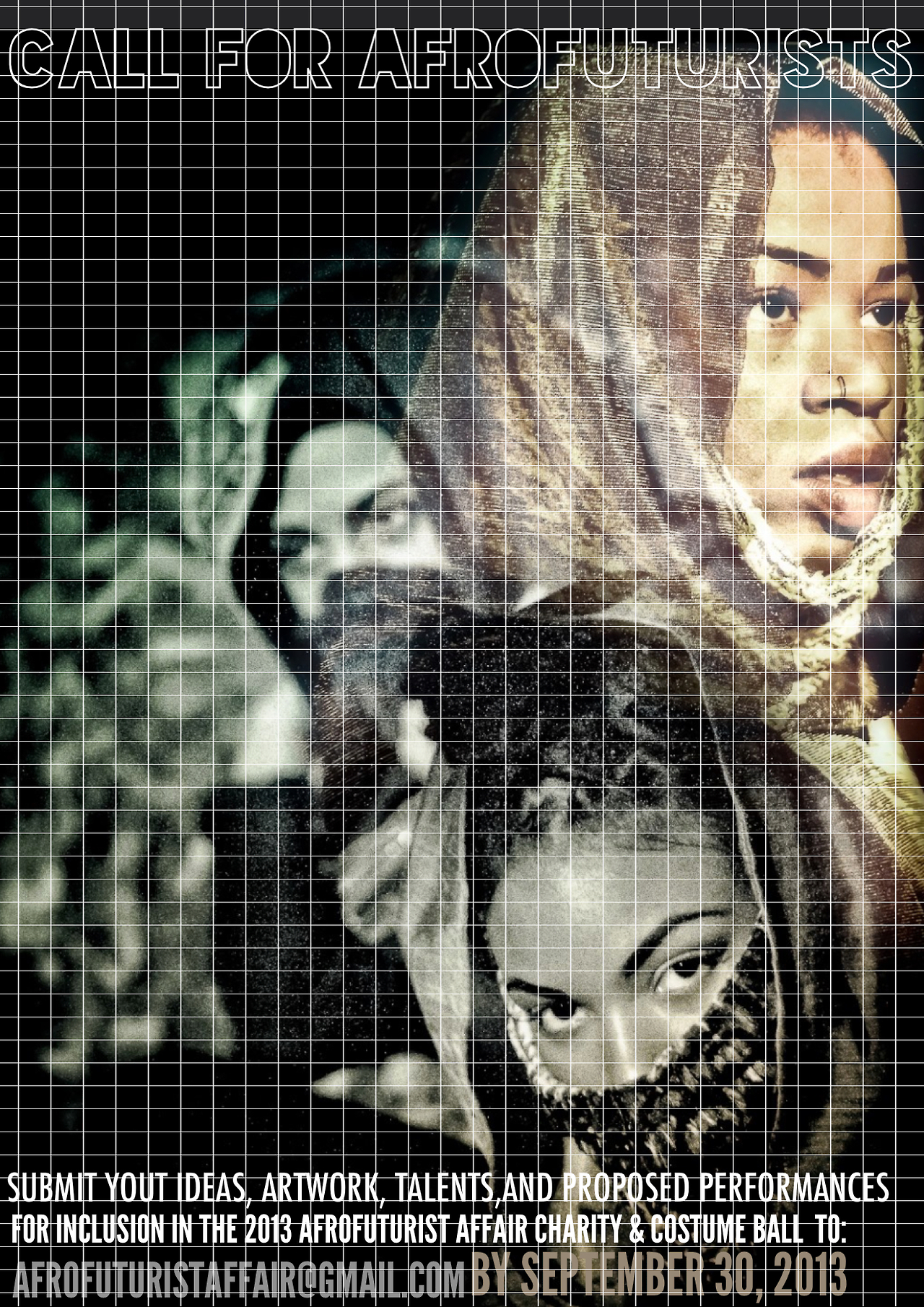 The AfroFuturist Affair is throwing our 3rd Annual Charity & Costume Ball: Dark Phase Space on November 9, 2013 at MythMedia Studios in Philadelphia! At the annual Ball we celebrate and bring awareness to AfroFuturistic culture with feature artists, authors, and performers who will present works and creations that use Afrofuturism and Sci-Fi as vehicles for expression, education, agency, and liberation. All proceeds from the event will be donated to the Futurist Fund, a community grant dedicated to serving the needs of an underserved or marginalized member of the community.
We need your support to throw the Ball and fund our community grant!

The AfroFuturist Affair is a community formed in Philadelphia in 2011 to celebrate, strengthen, and promote Afrofuturistic and Black sci-fi culture through creative events, community workshops, blogging, and creative writing. All proceeds from our events are used to fund the Futurist Fund Community Grant. The AfroFuturist Affair is also a founding member of Metropolarity.net, a 215 Speculative Fiction Collective.

The Futurist Fund is a community, need-based grant established to provide a small amount of financial assistance to those in the community with an immediate and demonstrated need, and without other available funds or resources to meet that need. The Futurist Fund grant is awarded by The AfroFuturist Affair each year, with grant funds raised from non-tax deductible donations made through creative Afrofuturistic events held year round by the organization and other collaborative partners.
Since we started giving out the grant in November 2012, we have assisted a mother with past due bills after tragic deaths in the family, a young mother with severe health issues, and an individual in need of assistance with moving costs. We have also used the funds to provide sponsorship and community partnerships to a number of community events, including Psychic Windows Gallery with artist Joshua Mays at Sanctuary Wholistic Arts, the Philly Premiere of The Triptych with AfroPunk and MythMedia Studios, and Rockers! 3rd Annual BBQ Weekend.
The Annual Ball provides a platform for artists, authors, musicians, visionaries, and performers of color who purposely create with science fiction and afrofuturistic themes and mediums. Artists who feature at the AfroFuturist Affair Carity & Costume Ball are diverse in their theories, topics, and modes of expression, but all of their work embody common afrofuturistic elements – paying homage to our histories, commenting on our present state, and envisioning our futures as people of color. Some of our past guests and sponsors have included:
Dja Dja N. Medjay, author of the science fiction novel, Renpet
Bill Campbell , author of Sunshine Patriots and Koontown Killing Kaper
Nicole D. Sconiers, author of a collection of speculative fiction short stories, Escape from Beckyville: Tales of Race, Hair, and Rage
Napoleon Dolemite and the Signifying Monks
Visual Artist Lorna Williams
PSL Presidential Candidate of the US Peta Lindsay
Artists Rell Stylez of S.W.A.G
Designer Nit Ra Sit
DJ John Morrison
The Alien Architect
Philadelphia Printworks
feyasterling inc.
The Black Tribbles
Funds also help to support other activities and endeavors of the organization, including our tumblr blog which promotes and supports Afrofuturistic culture, practice, and events around the diaspora, our free community workshops, and critical, creative writing on Black scifi and Afrofuturistic phenomenon.
You can see photos from our past Balls from 2011 and 2012.
Here is an interview with the Creative Director of The AfroFuturist Affair at a promotional event from the very first Ball in 2011:
Other Ways You Can Help
All donations are greatly
appreciated, but we understand that not everyone has the means to monetarily support. Your support by sharing this campaign on your social networking
sites is truly invaluable! We will also try to set up some sort of digital gift
for most shares, such as a .pdf of The AfroFuturist Affair mini-zine.
If you are interested in sponsoring, vending, or volunteering at the 2013 Charity & Costume Ball, please submit an email to afrofuturistaffair@gmail.com. To share your ideas, talents, and proposed performances for inclusion in this year's Charity & Costume Ball, please email afrofuturistaffair@gmail.com by September 30, 2013.
More About The AfroFuturist Affair
The AfroFuturist Affair engages the community by cultivating a vehicle through which people can push beyond the confines of the mainstream narratives and stereotypes that have marginalized their interests, experiences, and their very existences and allows them to continue developing their identities in a comfortable and safe space with people of like minds. The project also provides a space for individuals of color with similar experiences and interests in Afrofuturism, fantasy, science-fiction, and speculative fiction to collaborate on a project that promotes and encourages their art and philosophies as connected with these themes. In the sense that Afrofuturism and speculative fiction is a medium for social commentary and a lens through which communities can shape evaluate or shape their futures, the project provides the space not only for further dialogue around these ideas, but for actual, practical implementation of these ideas as they serve social progress.