The AfroFuturist Affair Presents: |BLACK HOLOGRAPHIC MEMORY| 4th Annual Charity & Costume Ball WEEKEND
November 8, 2014 @ 8:00 pm
$3 – $10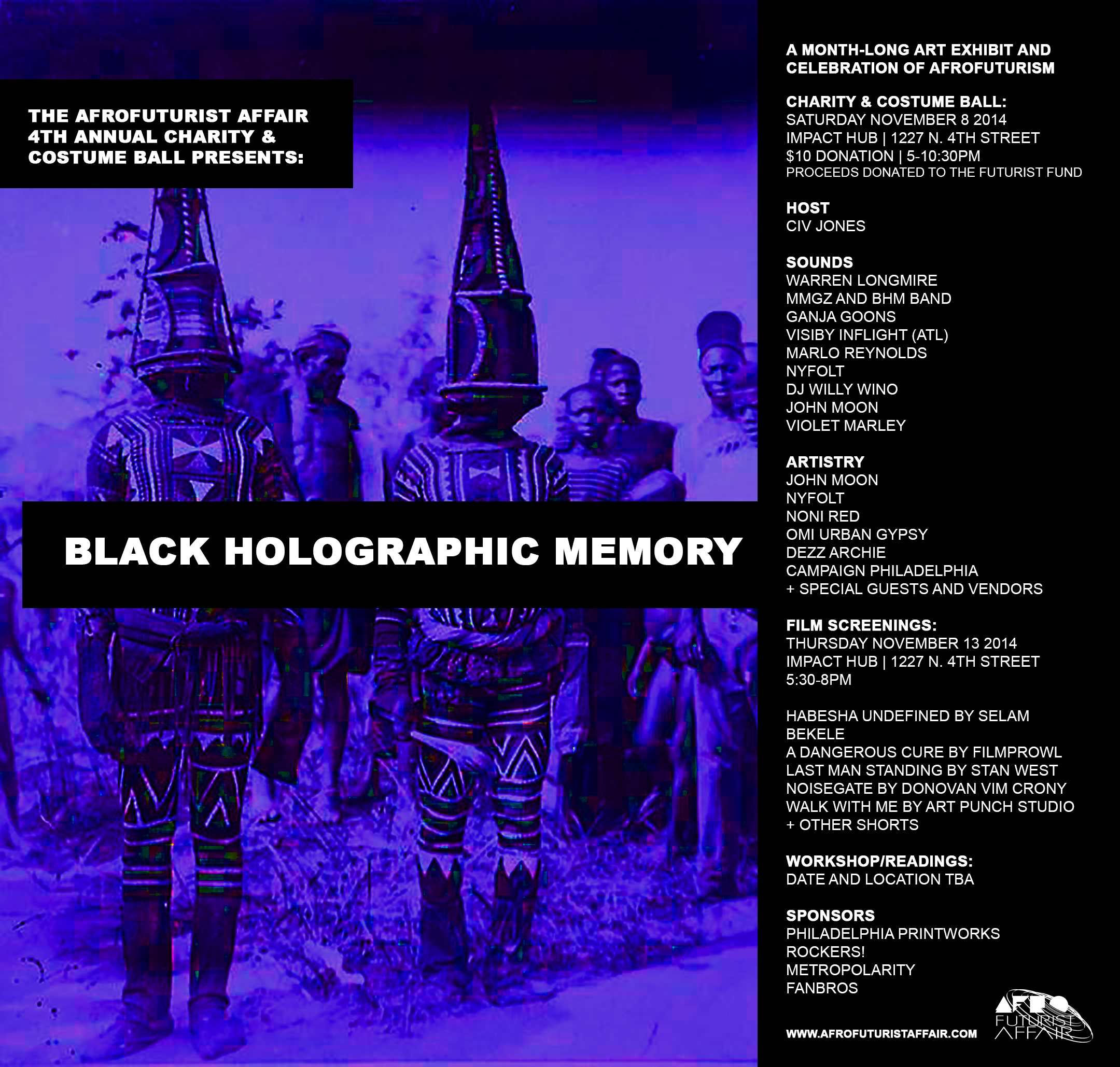 This year, The AfroFuturist Affair Annual Charity & Costume Ball has expanded space-time from one evening to a month-long celebration of Afrofuturism. In addition to the 4th Annual Costume Ball on Saturday, November 8 2014, we will have events throughout November, including workshops, dance party, readings, book club, film screenings, art exhibit, and more, all exploring the theme of Black Holographic Memory.
NOV. 8 – Charity and Costume Ball – $10 donation
Please join us at Impact Hub Philly as we celebrate and bring awareness to Afrofuturism and Black SciFi culture with feature visual and performance artists, authors, and presenters whose creations use Afrofuturism and Black Sci-Fi as vehicles for expression and agency. Costumes and theme-wear strongly encouraged (check our past photos)!
Sounds Provided by:
Visibly Inflight (ATL)
Ganja Goons (SC)
Violet Marley
MMGZ and the BHM Band
Warren C. Longmire
Marlo Reynolds
Nyfolt
John Wesley Moon
DJ Willy Wino
Live Art with:
Omi Urban Gypsy
Month-long Afrofuturist Art Gallery featuring:
Dezz Archie
Nyfolt
Noni Red
Omi Urban Gypsy
+BQF Private art collection
Indigenous Techniques Afterparty at House of Future Sciences. Details TBA

Nov 13 – MultiMedia Night – $3-5 donation
Join us at Impact Hub for an evening of Afrofuturist, Black Scifi, and Horror documentary and films
Featuring:
Habesha Undefined by Selam Films: Prince of Nowhere
A Dangerous Cure: the Movie by Kevin Jarvis
Last Man Standing by Stan West
NOISEGATE by Donovan Vim Crony
Walk With Me by Art Punch Studio
+ other shorts
Nov. 15 – Workshops/Readings – $3-5 donation
Details TBA soon
Sponsored by
Philadelphia Printworks
Metropolarity
ROCKERS!
Fanbros.com
Lissa Alicia Independent Media and Marketing
All proceeds benefit The Futurist Fund Community Grant, which provides emergency assistance to low-income community members. More info atwww.afrofuturistaffair.com.