TRANS & GENDER NONCONFORMING YOUTH WRITING WORKSHOP SERIES
September 10, 2016 @ 12:00 pm

-

April 8, 2017 @ 2:00 pm

FREE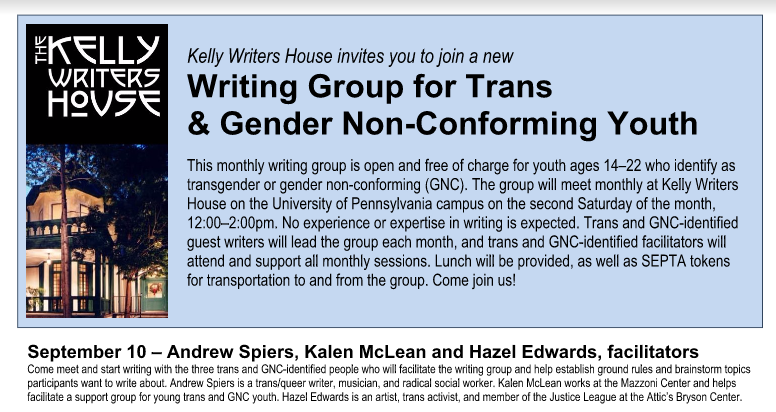 Kelly Writers House invites you to join a new
Writing Group for Trans
& Gender Non-Conforming Youth
 This monthly writing group is open and free of charge for youth ages 14–22 who identify as transgender or gender non-conforming (GNC). The group will meet monthly at Kelly Writers House on the University of Pennsylvania campus on the second Saturday of the month, 12:00–2:00pm. No experience or expertise in writing is expected. Trans and GNC-identified guest writers will lead the group each month, and trans and GNC-identified facilitators will attend and support all monthly sessions. Lunch will be provided, as well as SEPTA tokens for transportation to and from the group. Come join us!
September 10 – Andrew Spiers, Kalen McLean and Hazel Edwards, facilitators
Come meet and start writing with the three trans and GNC-identified people who will facilitate the writing group and help establish ground rules and brainstorm topics participants want to write about. Andrew Spiers is a trans/queer writer, musician, and radical social worker. Kalen McLean works at the Mazzoni Center and helps facilitate a support group for young trans and GNC youth. Hazel Edwards is an artist, trans activist, and member of the Justice League at the Attic's Bryson Center.
October 8, 2016 – Guest Writer Kavi Ade
Kavindu "Kavi" Ade is a writer, activist, arts educator, and nationally recognized spoken word poet. While best known for their gender identity poem titled "IT," Kavi's work most often bridges the realms of personal and political identity – navigating what it means to be Black, Transgender, Queer, and first-generation American all at once. Through their poetry the world unfolds itself in moments of cruelty, rage, and grief, but also beauty, wonder, and becoming.
November 12, 2016 – Guest Writers Mel Bentley and Leah B.
Mel Bentley co-organizes Housework at Chapterhouse, a reading series in Center City. They have two chapbooks published from 89plus/Luma Foundation and Lamehouse Press. Leah B. (Ksenya Leah Basarab) creates experimental musical fragments and prose/narrative/essay-form written works. Her musical pieces are an energized form of communication that involves sharing a myriad of emotions, memories, and opinions via varying vocalizations, a bass guitar, timing effects/layers, sometimes a piano, and more rarely a cello.
December 10, 2016 – Guest Writer M Eighteen Téllez

A founding member of the METROPOLARITY sci-fi collective, Eighteen is a hybrid mestiza cyborg and Philadelphia native who is frustrated/pissed with institutional distinction, empire and white supremacy, and fixed rather than fluid treatment of language and identity. They consider the spoken and written word handy and inexpensive tools for deconstructing oppressive world-ordering narratives.
January 14, 2017 – Guest Writer Cyree Jarelle Johnson
Cyree Jarelle Johnson is a Black non-binary essayist and poet living and working in Philadelphia. Their writing considers disability as a cyborg femme reality, femininity as resistance and rebellion, and Black pessimism. They are a founding member of A Collective Apparition, a Black queer and trans interdisciplinary arts collective. Their work has been featured in publications both domestically and internationally including Black Girl Dangerous, Feministing, and in the anthology Poems for the Queer Revolution.
February 11, 2017 – Guest Writer Trish Salah
Trish Salah is a Lebanese/Irish-Canadian feminist writer and educator whose writing addresses trans themes as well as questions of diasporic Arab identity, anti-racism, queer politics and economic and social justice. Her first volume of poetry, Wanting in Arabic, published in 2002 then reissued, won the Lambda Literary Award for Transgender Fiction in 2014. Roof Books published her second book, Lyric Sexology Vol. 1, in 2014.
March 11, 2017 – Guest Writer Davy Knittle
Davy Knittle is a poet whose chapbooks include empathy for cars / force of july (horse less press) and cyclorama (the operating system). He is a PhD candidate in English at Penn, where he thinks about what cities and poetry have to say to each other, and how poetry might help cities make room for everyone who lives in them.
April 8, 2017 – End-of-year party and chapbook launch
We will have an end-of-year celebration at Kelly Writers House where the youth can share their writing with friends and family.
Sessions will take place at Kelly Writers House, 3805 Locust Walk, on the University of Pennsylvania campus, except on October 8 and March 11, when the writing group will be held at the LGBT Center at Penn, 3907 Spruce Street. Questions? Please contact Amy Hillier at ahillier@upenn.edu or Andrew Spiers at andrewspiersmss@gmail.com or Rachel Zolf at zolfr@writing.upenn.edu. Funding for the writing group is provided by Kelly Writers House and the University of Pennsylvania's School of Social Policy & Practice.