Xthetix: Pre-Sissy Hop DIY PREP SALON
April 17, 2014 @ 6:00 pm

-

10:00 pm

Donation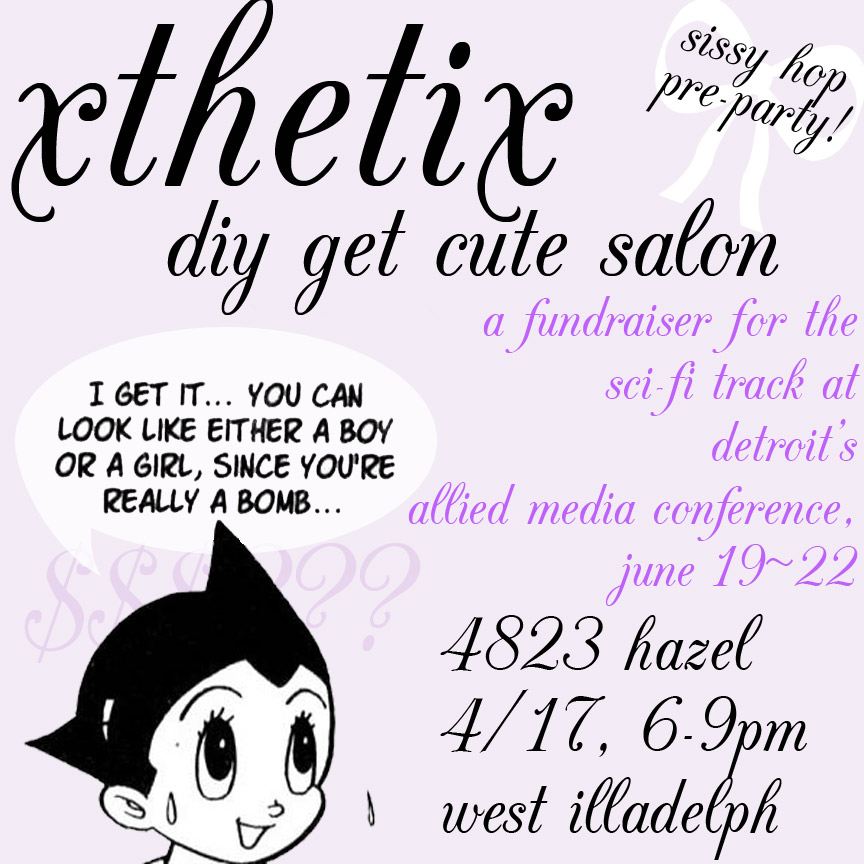 WATS YR XTHETIK? NEED HELP ACCESSING YOUR COMPARTMENTALIZED SELVES?
VISIT XTHETIX, a recurring FUNDRAISING BENEFIT FOR THE SCI-FI TRACK OF THE ALLIED MEDIA CONFERENCE** ((this June 19~22 in Detroit!)
[info here: https://www.facebook.com/libtechamc
and here: http://liberationtechnologiesamc.tumblr.com/]
++++++++++++++++++++++++++
NAIL ART | STICK N POKES | SELF-CARE | MAKEUP CONSULTATIONS | SELFIES | SHAPEUPS | BRAIDING | TWISTS | SCALP MASSAGE/HAIR BRUSHING | TAROT
STICK N POKES by GENESIS
TAROT READINGS by CYREE
JUST IN!! POTIONS by Stitch Prism x Honey & Blackbone Tarot
EXCLUSIVE WEST PHILLY NAIL FLASH/STICK N POKE FLASH
SANGRIA CONCOCTIONS OH MY
[Stitch Prism jewelry for sale with 25% going to LibTech]
++++++++++++++++++++++++++
Clean dry hair, please. Feel free to bring own makeup and nails. Braiding includes cornrows. Message us for special requests or needs. BRING INSPIRATION.
HEY HOW MUCH?
Sliding scale for each station: $7-30
INQUIRE FOR ALL ACCESS PASS ::gasp ooooh::
++++++++++++++++++++++++++
♡ JUST IN TIME TO GET CUTE FOR THAT SISSY HOP ♡
≠ WEIRDOS FREMEN GLITCHES OANKALI CYBORGS FREAKS SPACERS ALIENS SHIP-OF-THE-IMAGINATION CREW MEMBERS LEY LINE WALKERS ALL ARE WELCOME ≠
++++++++++++++++++++++++++
Want to help volunteer a service? Holler at one of the coordinators 〜☆
++++++++++++++++++++++++++
**What are we fundraising for exactly? As organizers for the sci-fi track of the AMC, it's our responsibility to do as much fundraising as possible in order to provide financial assistance for presenters' travel costs, room and board, and other expenses that they are unable to cover themselves. Providing financial assistance is key to bringing many of the amazing workshop & panel presenters that will make up the 9 sessions of our sci-fi oriented media empowerment track of programming at the AMC. This chumpie is trying to get transformative!
The Allied Media Conference is "a collaborative laboratory of media-based organizing strategies for transforming our world, held every summer in Detroit." It's organized entirely by a decentralized network of volunteers.
Want more info?? https://amc.alliedmedia.org/about/amc-mission