Afrofuturism NOW!
October 14, 2015 @ 10:00 am

-

October 17, 2015 @ 6:00 pm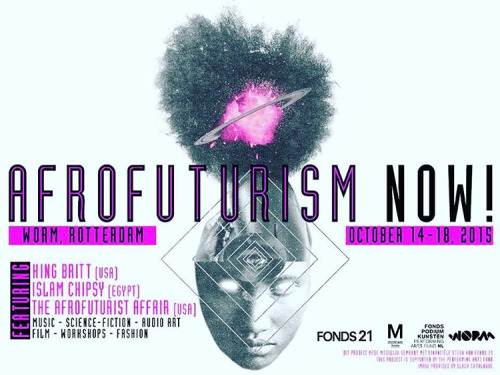 The AfroFuturist Affair/Black Quantum Futurism will be performing, presenting, and guest curating at the AFROFUTURISM NOW! Festival
The avant-garde is black! Afrofuturism is a cultural movement that has been existing for a couple of decades in America, Europe and Africa. Some prominent Afrofuturists are Sun Ra, George Clinton, Jeff Mills and Science Fiction writer Octavia Butler. Today, there's a new wave of Afrofuturist writers, performers, visual artists, musicians, filmmakers, designers, bloggers, activists. Contemporary Afrofuturists – Rasheedah Phillips, Ytasha Womack, King Britt and many others – fuse science fiction imagination with avant-garde & DIY culture while reflecting black diaspora.
From 14th to 17th October, WORM will celebrate contemporary Afrofuturism with the festival "Afrofuturism Now!". In preparation of this event, our program will look back at the roots of this super-interesting cultural movement, with an extensive film program and a lecture in June.