CHR0M# CITY
December 6, 2014 @ 9:00 pm
$10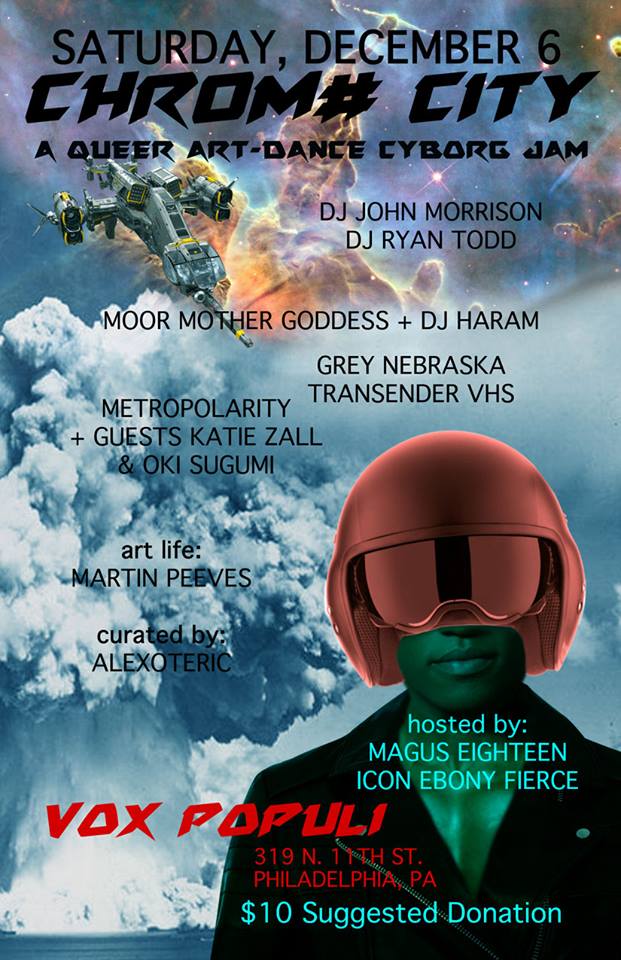 A FUCKING MOOD PARTY YO.
Smash 2.o iz
***** A QUEER ART-DANCE CYBORG JAM *****
night fight in the 80s, street lights gleaming off your visor, brandishing knives at punx tweaker yuppie scum, knives in the night time, trans am hologram cyborg dreams interlinking, just ruined in the space race, nuclear wardancing into the new age, living in the cracks of the n e o n s u n light ////LET'S GIVE CYBORG FACE ALL NITE///
featuring:
DJ JOHN MORRISON
(Fly Life/Sankofa House)
DJ RYAN TODD
(Robotique)

MOOR MOTHER GODDESS + DJ HARAM
*art damaged transcendent hip hop*
(Rockers!/Central Plexus/CutnPaste)
GREY NEBRASKA
*glitchy, witchy, swirly trance enduction*
(LAVENDER HOUSE)
TRANSGENDER VHS
*Baltimore neon-noise experimentalist*
https://soundcloud.com/transgendervhs
METROPOLARITY + guests KATIE ZALL and OKI SUGUMI
*cosmic space readings throughout the night*
hosted by:
MAGUS EIGHTEEN
(Metropolarity/Laser Life)
http://cyborgmemoirs.com/
ICON EBONY FIERCE
art life:
MARTIN PEEVES
curated by:
ALEXOTERIC
(Metropolarity/Fly Life/Smash)
Liquid Sky X The Terminator X the Funhouse on the set of Paris is Burning. #live4eva #restingglitchface
we are asking for a $10 donation
thanks for your support!!