Geekadelphia Presents: The Future of Philly Sci-Fi and Fantasy @ The Free Library
September 9, 2015 @ 7:00 pm

-

9:00 pm

FREE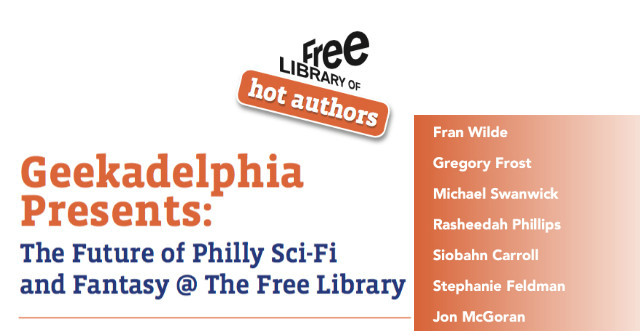 Philadelphia has been a nexus for science fiction and fantasy writers and fans for longer than many of us can remember. Numerous authors have made their homes in Philadelphia and produced some of the best works speculative fiction has to offer. The first Hugo Award was given out here. Isaac Asimov lived here. SF grandmaster Samuel R. Delany taught at Temple. But where is Philadelphia Sci-Fi and Fantasy heading? On September 9 at 7:00pm, in the beautiful Skyline Room of the Central Branch of the Free Library of Philadelphia,  you'll have the chance to learn about the past, present, and future of sci-fi and fantasy in Philadelphia.
Led by notable science thriller author Jon McGoran, five of our best local authors will delve into topics like the founding of the Hugo Awards, the recent resurgence of fantasy on TV, how the fast-paced tech industry influences fiction, and so much more! After the main discussion, there will be time for the you, the lovely audience, to ask any questions you would like.
After the panel and Q&A are finished, the night is still not over! Big Blue Marble Bookstore will be on site selling each of the author's newest books. You'll have plenty of time to chat with your favorite authors and get your copies signed.
Below you'll find a bit more about our excellent panelists and moderator for the night:
Fran Wilde is an author and technology consultant. Her first novel, Updraft, is out now. Her short stories have appeared in publications including Asimov's, Nature, Tor.com, and Beneath Ceaseless Skies. Her interview series Cooking the Books–about the intersection between food and fiction–has appeared at Strange Horizons, and Tor.com.
Gregory Frost is the author of novels including the Shadowbridge series (Del Rey) and Fitcher's Brides (Tor). His short stories have appeared most recently in Asimov's, Supernatural Noir (Ellen Datlow, ed.) and Apex Magazine. He's director of the fiction writing workshop at Swarthmore College.
Michael Swanwick has won five Hugo Awards and one Nebula Award in his long career of science fiction. He is the author of Dancing with Bears and the short story collection The Dog Said Bow-Wow. He has also made contributions science fiction field with critical essays as well as a biography of Hope Mirrlees.
Rasheedah Phillips is a public interest attorney, author, mother, Afrofuturist, and Aries living and working out of Philadelphia. She is also the creator of The AfroFuturist Affair, and a founding member of Metropolarity Spec Fic Collective. She recently independently published her first speculative fiction collection, Recurrence Plot (and Other Time Travel Tales), and an anthology of experimental essays from Black visionary writers called Black Quantum Futurism: Theory & Practice Vol I. Phillips was recently a 2015 artist-in-residence with West Philadelphia Neighborhood Time Exchange. This fall she will be presenting at the Afrofutures UK Unconference, and performing, presenting, and guest curating at the AFROFUTURISM NOW! Festival in Amsterdam. Stay up to date and subscribe to the Future Light Cone newsletter.
Siobhan Carroll is an Assistant Professor at University of Deleware who specializes in British literature from 1750-1850 – the turbulent historical period called the "Romantic Century" – and in modern science fiction and fantasy. She is interested in the ways that literature has shaped our understanding of empire, community, and the natural world. Her book, An Empire of Air and Water, is out now.
Stephanie Feldman grew up in Philadelphia and studied writing at the University of Pennsylvania and then Barnard College. Her debut novel, The Angel of Losses, is winner of the Crawford Fantasy Award, a Barnes & Noble Discover Great New Writers Selection, and a finalist for the Mythopoeic Fantasy Award. It was included in best-of-the-year lists from the Washington Post, Book Riot, and Locus Magazine.
Jon McGoran is the author of the biotech thrillers Drift and Deadout, from Forge Books. Writing as D. H. Dublin, he is the author of the forensic crime thrillers Freezer Burn, Blood Poison, and Body Trace, from Penguin Books. His short fiction, nonfiction and satire have appeared in a variety of publications and anthologies. He is a founding member of the Philadelphia Liars Club, a group of published authors dedicated to promotion, networking, and service work.
Come out and support your local authors, library, and this little ol' geeky blog!
Geekadelphia Presents: The Future of Philly Sci-Fi and Fantasy
Wednesday September 9 at 7:00pm
@ The Free Library of Philadelphia Central Branch 4th Floor, 1901 Vine Street, Philadelphia, PA 19103
Admission is totally FREE and you should RSVP to the Facebook Event!