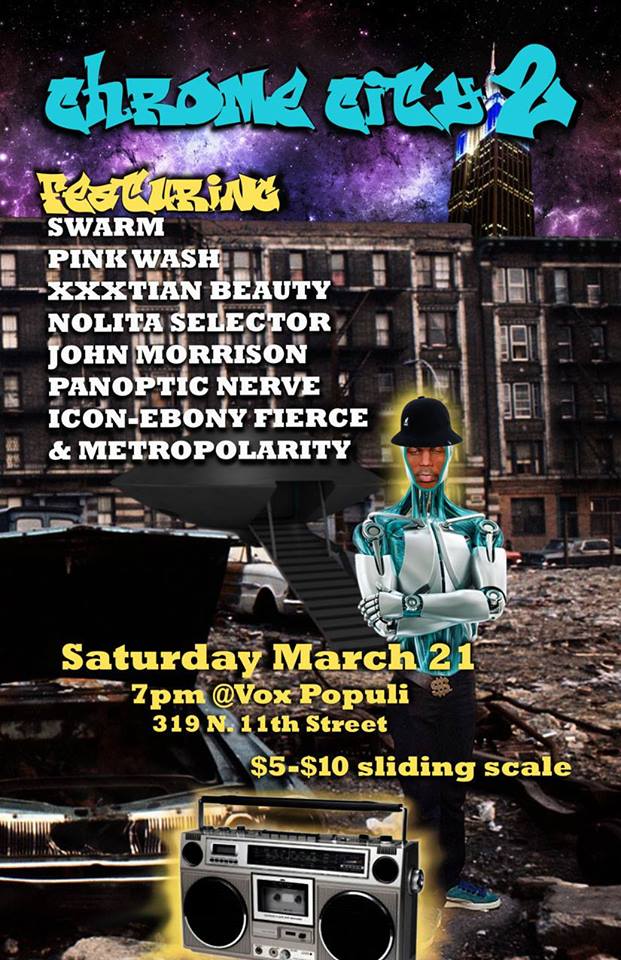 Vox Populi
319 N. 11th St, 3rd Floor, Philadelphia, PA
a prep and a primer, re: CHROME CITY. From the Files of Lexcorp.. CC'd Weyland-Yutani, Cyberdyne Systems, Ltd., Tyrell Corporation, LLC.
Chrome City in general is an attempt to create new forms of art from the ethereal husks, the ozone laced residue of the retro-future, and to stitch new works, new possibilities from the light lines streaking off time warping deloreans. It's not just a "retro party"; the intention is to create something new while acknowledging everything that made us who we are.
Chrome City 2: No, New York, is both a conscious effort to vibrate away from the stagnancy of relying on Big Brother to validate us (in more ways than one, this time specifically New York City and it's relationship to Philly, as well as in an Orwellian sense--see what i did there?) So, we're saying "NO" to New York, but we're also bigging up; we can't front: the pre-Guiliani graffiti scrawl of a gang ridden late '70s and '80s NYC is ultimately enticing. Besides, "No New York" is the name of a seminal no wave compilation that informs much of the underground today. But aside from a raw play on words, we're looking to bridge the ever widening gap of the forward movements that took place downtown from 1977 to 1984-- go-go boys, voguers, bboys, art fags, drag queens all clash with the mandroids, bio-morphs, replikants and blade runners alike-- to the post internet everything world of today. Is it possible to simultaneously dis something and pay homage to it? Pour in those 1.21 gigawatts of ill base, no wave noise, and insurrectionist afterfuture cyber speak, then hop in the delorean and find out.